Just in time for summer in 2020, the Lexus LC 500 is scheduled to arrive on the automotive scene. The forecast for the convertible is charm, charisma, and grace – a perfect match for driving under sunny blue summer skies. From top to bottom, the LC 500 exudes luxury, poise, and grace. Under the hood, it packs plenty of power while also using Active Noise Control to block out unwanted sounds. Versatility is another highlight of the LC 500, which has many features (starting with putting the top up or down) to provide a unique, personalized driving experience.
Inside and out, there are many things you'll find to enjoy with the 2021 Lexus LC 500. The convertible's commanding presence starts from the outside with a beautifully sculpted and contoured exterior consisting of a sporty two-door design, a unique roofline, and a convenient soft-top design. The rear spoiler is more extensive this year, giving the vehicle an overall broader and lower stance. Lexus LC 500 also has a lower center of gravity, which is ideal for better handling and performance.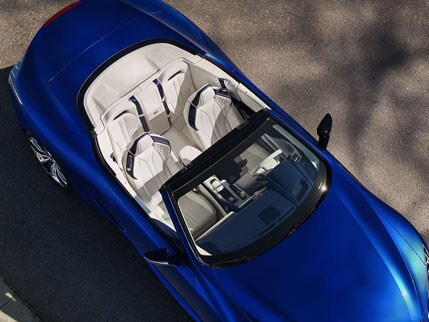 The rear brake light is also embedded in the trunk lid this year for a more streamlined and modern appearance. All these excellent features can be wrapped up in an appealing range of colors such as Obsidian, Cadmium Orange, Nightfall Mica, and Liquid Platinum. You can choose from one of three interior color schemes, including Circuit Red, Black, and Toasted Caramel. A special Convertible Inspiration Series will also be available with its unique color schemes.
The convertible's exquisite offerings continue on the inside, where you'll find a state-of-the-art cabin equipped with the latest technology, cutting-edge safety, and an overall wonderfully sophisticated design. The cabin has a progressive climate control system that is designed to adjust the interior cabin temperature based on external temperatures and keep the air clean, regardless of whether you have the top up or down. Along with standard seat heaters, this convertible includes neck warmers too, which is a revolutionary addition among its competitors.
The LC 500 is equipped with a large 10.3-inch infotainment screen with a high-resolution background. It also has a split-screen display for convenience. The system's convenient touch technology provides instant access to music, maps, audio, and more. Android Auto is standard on the convertible, and you can play your favorite tunes using several apps such as Pandora and Spotify.
In 2021, the Lexus LC 500 is an excellent choice for a convertible. Stay tuned for more information about the impressive new release and its availability at our dealership.