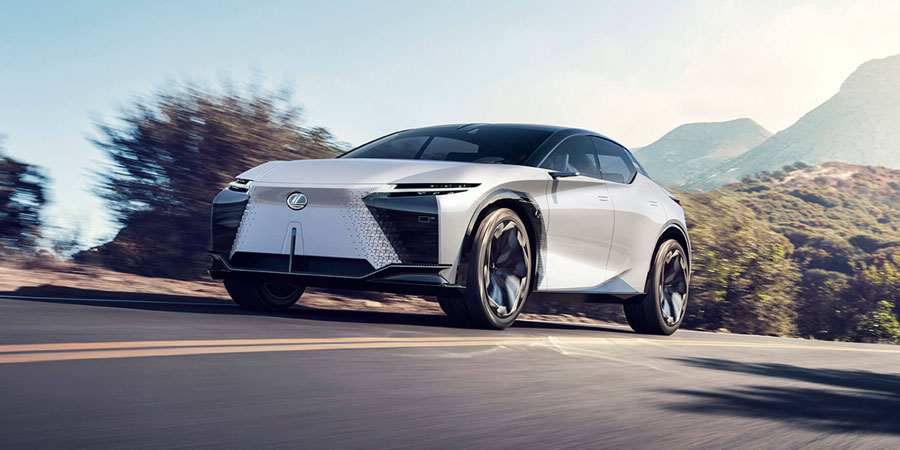 The new Lexus LF-Z Electrified concept vehicle illustrates Lexus's ambitions to become a leader of electrified vehicles by 2025. The Lexus LF-Z Electrified design is cutting edge with a futuristic look. The familiar Lexus front grill is gone, and the new design sports an hourglass shape. Lexus's goal is to position the LF-Z Electrified concept vehicle as the first of future Lexus vehicles that will all have some electrification.
The Lexus LF-Z projects different visual planes, including a greenhouse look, culminating with a pronounced peak near the back seat. The rear end of the LF-Z has full-width taillights with angular lines and indentations. A unique rear-end feature of the LF-Z is a large dorsal fin, maybe antennae? The rear taillight is illuminated with the word "Lexus."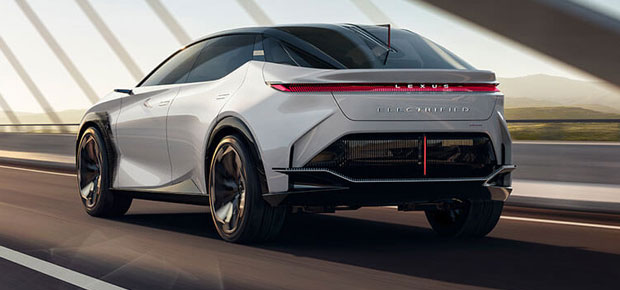 The interior is sharply designed with a yoke in place of a steering wheel, similar to the Tesla yoke. The yoke utilizes a drive-by-wire steering system with instant feedback on different steering ratios. Lexus plans to amp up the Infiniti Direct Adaptive Steering system with the steering yoke. In a Lexus video, the LF-Z is shown navigating a slalom course with not much more than 90 degrees of turn on the yoke.
The interior design for the Lexus LF-Z appears to create information flow to the driver. The center console presents a dial-style gear shifter and an easy-to-use functional touch-screen. It seems Lexus may be moving away from the touch-pad infotainment controller.
The Lexus LF-Z will utilize a Direct-4 drive system whereby the two electric motors vary power feed to each of the four wheels. The Direct-4 and fly-by-wire systems are working in tandem and provide superior driver control. The yoke steering system adjusts for how quick and far the driver is maneuvering the vehicle for superior highway feedback. The yoke working in tandem with the Direct-4 drive system delivers to the driver the ultimate in direction control.
The LF-Z will be powered by a 90-kWh lithium-ion battery pack with an estimated range of 373 miles. In an effort to maximize battery efficiency, Lexus focused on better aerodynamics, improved climate control power management, and the reduction of rogue parasitic power loss.
Make sure and visit Reliable Lexus to keep current on any breaking news for the revolutionary Lexus LF-Z. A good idea would check our dealership online for any last-minute updates on the LZ-F and other breaking Lexus news.